Here Comes Santa Claus...Santa's Home Page
Here Comes Santa Claus
By Gene Autry and Oakley Haldeman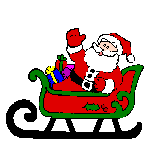 Here comes Santa Claus!
Here comes Santa Claus!
Right down Santa Claus Lane!
Vixen and Blitzen and all his reindeer
are pulling on the reins.


Bells are ringing, children singing;
All is merry and bright.
Hang your stockings and say your prayers,
'Cause Santa Claus comes tonight.
Here comes Santa Claus!
Here comes Santa Claus!
Right down Santa Claus Lane!

He's got a bag that is filled with toys
for the boys and girls again.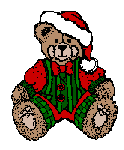 Hear those sleigh bells jingle jangle,
What a beautiful sight.
Jump in bed, cover up your head,
'Cause Santa Claus comes tonight.
Ho Ho Ho!! Welcome to my home at the North Pole!! Have you been naughty or nice this year?? Hmmm....let me check my list! 1997 has been a busy year for old Santa. I have been building all sorts of wonderful toys for all the boys and girls around the globe. My elves threatened to go on strike if I didn't slow down! HO Ho Ho!!! Mrs. Claus has been baking wonderful cookies and cakes. Santa must keep his jolly figure! Ho Ho Ho!!! I am so glad you stopped by to say hello to me. You are welcome to email me with your Christmas wishes and I will be sure to write you back! Santa loves getting mail from all of his friends!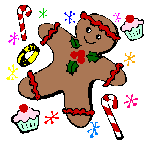 Won't you write this "dear old man"?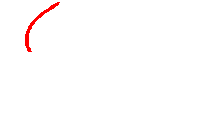 If you click the email button you may mail me in care of Jeanne...she is one of many elves I have working for me on the internet! HO! HO! HO!

Dear Santa
Pick a special time for the kids to write their letters to Santa. Mom and Dad can supervise the little ones' literary efforts and dissuade them from making inappropriate requests. Finished letters can be tucked inside slippers and placed outside bedroom doors for Santa's elves to pick up. And, of course, Santa's elves always leave a little treat behind-a piece of fruit, some nuts, a tiny ornament or a sweet something.
The History of Santa Claus
As Told By Edward the Elf: Chief Santa Historian

The jolly, plump, white-bearded man in the red suit who is the modern Santa Claus is largely a legendary figure. His name and some of his personal qualities, however, are derived from those of an early Christian saint.
The saint, whose name was Nicholas, lived in Asia Minor between about 280 A.D. and 350 A.D. and was the Bishop of Myra. He was known for his great generosity and his love for children. It is said that he often went in disguise to give presents to the poor. As stories of his good deeds spread, people began to think of St. Nicholas as the donor of unexpected presents.
During the 11th century, the saint's remains were carried to the city of Bari in southern Italy. There, the church in which they were enshrined became a center of pilgrimmage. It is believed that some of the first Crusaders stopped at Bari and carried stories about Saint Nicholas back to their homelands. Thus the saint became known throughout Europe.
Saint Nicholas was called Sankt Nikolaus or Kris Kringle in Germany, and Saint Nikolaas or Sinterklaas in Holland. After the Dutch colonists carried his legend to America in the 17th century, the English settlers began to call the saint, Santa Claus.

The Dutch thought of Sinterklaas as a rotund little man who wore a typical Dutch costume, including knee breeches and a broad-brimmed hat.
Further details were added in the 19th century by Clement C. Moore, a poet and professor of theology. His popular poem, The Night Before Christmas (1823), includes a colorful description of St. Nick complete with reindeer and sleigh.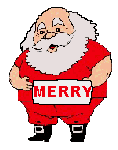 Finally, the cartoonist, Thomas Nast, pictured the saint in a red, fur-trimmed suit for Harper's Weekly in 1863. This conception of Santa has remained unchanged throughout the years.
Historical Santa Links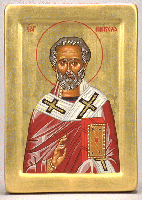 THE CHRISTMAS SCHEDULE

As Told by Ralph the Elf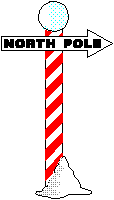 Without a doubt, Christmas is the most exciting time of the year up at the North Pole. It sets your heart to pounding; it gets the blood flowing; it sends the adrenaline pumping through your veins.
There's so much to do when Christmas Eve comes that Santa has to have a set schedule-otherwise he'd never get off on time. Of course, Santa's on a schedule long before that. As Santa's daddy always used to say, "Prior planning prevents poor presents." Santa has lived by that saying all his life.
But the rush is really on once delivery day arrives. Here's the schedule Santa follows beginning the day before Christmas:
Because Santa is going to be up all the next night, he sleeps in a little late the day before Christmas. But not to late. About 7:30 A.M. he's up and getting ready. He bathes, shaves, dresses-and tries to wake up!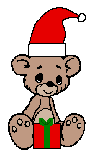 His first priority of the day is to get the list from Robert, the telephone mouse. He reviews the list while he eats his breakfast. Robert has arranged the list by country and city. Santa memorizes the main points. But he'll take the list with him to help him with the details.

This is me Ralph the Elf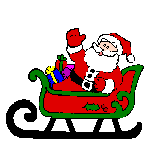 By the day before Christmas, the sleigh is already all loaded and ready. But still Santa needs to check it all out. He checks the toys in the bag, to make sure they're packed tightly. He makes sure they're arranged according to the city and country, to match Mouse Robert's list. He double checks the reins, to be certain they're not going to chafe the reindeer.
Finally he's ready to take off. He leaves in the early afternoon and flies all the way to the other side of the world, to the South Pole. He starts delivering toys there first, then works his way north and west as the night progresses. One thing that helps him do the whole job in one night is the time difference from place to place. He can start delivering in Australia and the Philippines, after the kids are in bed on Christmas Eve-and it's still a day earlier in Hawaii! He flies and delivers gifts around the clock, working more than twenty-four hours-but he's always there before the kids get up on Christmas morning.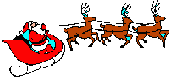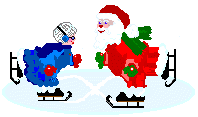 Santa Relaxing With Mrs. Claus After his Christmas Deliveries
Santa in Literature
Yes, Virginia, There is a Santa Claus
We take pleasure in answering thus prominently the communication below, expressing at the same time our great gratification that its faithful author is numbered among the friends of The Sun:
Dear Editor---
I am 8 years old. Some of my little friends say there is no Santa Claus. Papa says, "If you see it in The Sun, it's so." Please tell me the truth, is there a Santa Claus?
Virginia O'Hanlon
Virginia, your little friends are wrong. They have been affected by the skepticism of a skeptical age. They do not believe except they see. They think that nothing can be which is not comprehensible by their little minds. All minds, Virginia, whether they be men's or children's, are little. In this great universe of ours, man is a mere insect, an ant, in his intellect as compared with the boundless world about him, as measured by the intelligence capable of grasping the whole of truth and knowledge.
Yes, Virginia, there is a Santa Claus. He exists as certainly as love and generosity and devotion exist, and you know that they abound and give to your life its highest beauty and joy. Alas! how dreary would be the world if there were no Santa Claus! It would be as dreary as if there were no Virginias. There would be no childlike faith then, no poetry, no romance to make tolerable this existence. We should have no enjoyment, except in sense and sight. The external light with which childhood fills the world would be extinguished.
Not believe in Santa Claus! You might as well not believe in fairies. You might get your papa to hire men to watch in all the chimneys on Christmas eve to catch Santa Claus, but even if you did not see Santa Claus coming down, what would that prove? Nobody sees Santa Claus, but that is no sign that there is no Santa Claus. The most real things in the world are those that neither children nor men can see. Did you ever see fairies dancing on the lawn? Of course not, but that's no proof that they are not there. Nobody can conceive or imagine all the wonders there are unseen and unseeable in the world.
You tear apart the baby's rattle and see what makes the noise inside, but there is a veil covering the unseen world which not the strongest man, nor even the united strength of all the strongest men that ever lived could tear apart. Only faith, poetry, love, romance, can push aside that curtain and view and picture the supernal beauty and glory beyond. Is it all real? Ah, Virginia, in all this world there is nothing else real and abiding.
No Santa Claus! Thank God! he lives and lives forever. A thousand years from now, Virginia, nay 10 times 10,000 years from now, he will continue to make glad the heart of childhood.
Santa in Song
Santa Claus Is Coming To Town

By J. Fred Coots and Henry Gillespie
You better watch out
You better not cry
Better not pout
I'm telling you why
Santa Claus is coming to town
He's making a list
And checking it twice;
Gonna find out Who's naughty and nice
Santa Claus is coming to town
He sees you when you're sleeping
He knows when you're awake
He knows if you've been bad or good
So be good for goodness sake!
O! You better watch out!
You better not cry
Better not pout
I'm telling you why
Santa Claus is coming to town
Santa Claus is coming to town
Links to Santa Songs
Santa's Favorite Links
Click the reindeer to learn about Santa's favorite animals.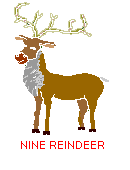 Click the snowman to learn more about the North Pole.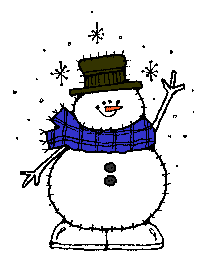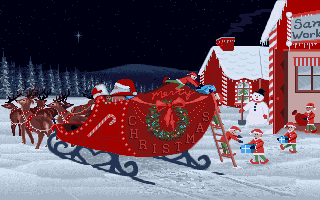 Jolly Old Saint Nicholas
Jolly old Saint Nicholas
lean your ear this way!
Don't you tell a single soul



what I'm going to say:
Christmas Eve is coming soon;
now


you dear old man
Whisper what you'll bring to me;
tell me if you can
When the clock is striking twelve
when I'm fast asleep
Down the chimney, broad and black
with your pack you'll creep
All the stockings you will find
hanging in a row
Mine will be the shortest one
you'll be sure to know
Bobby wants a pair of skates
Suzy wants a sled
Nellie wants a picture book
yellow
blue
and red
Now I think I'll leave to you
what to give the rest
Choose for me, dear Santa Claus;
you will know the best.
---

Click to return home!
or...
Return to theChristmas Home Page (text only version)


Email Jeanne at: abc123@powernet.net
Email Santa


Special thanks to Janet at Paragons!

Special thanks to my friend Susan at The Coop!

Thanks to Backgrounds Etc. for the wonderful graphics!

Thanks to Kelly and Winnie for your terrific artwork!
Background courtesy of