You are visitor #
to stop by since May 21, 1997.
Children's Literature Selection For the Month of May


About the Author: Cynthia Rylant has written several important children's books, a poetry book, a collection of short stories, and novels. Rylant is a prize-winning author; she received the 1992 Newbery Award for her novel, Missing May, the 1986 Newbery Honor Book Award for her novel, Fine White Dust, and the Caldecott Award for her picture books When I Was Young in the Mountains and The Relatives Came. She and her family live in Akron, Ohio. (Hmmmmm...maybe that's where the relatives lived!)
Rylant Links
About the Book: A big, old station wagon overloaded with food, luggage, and a crowd of all shapes, sizes, and ages of people lumbers over mountain roads for a day and a night to unite two groups of relatives who live hundreds of miles apart. The visitors are welcomed with hugging and laughing, talking and making music, and the happy contented sharing goes on for weeks as the relatives delight in just "being together".
As school draws to a close, students and teachers breathe a deep sigh of happiness. This is an ideal time to prepare students for a worthwhile summer of continuous learning! Summer is freedom and a joyful time of relaxation-opportunity to do lots of things that the demanding schedule of a regular school year doesn't allow. Introduce the book, The Relatives Came as an opener to a classroom discussion about the exceptional opportunities the summer season has to offer. Make a class list of summer things to do, places to explore, adventures to pursue, and trips to take. Don't forget to introduce a summer reading list!

Some Teaching Ideas
You will find a wonderful themed unit entitled "We Are Family" at Instructor Magazine's Theme Club. This web site has some fantastic ideas and it provides a wonderful tie-in to Rylant's book!
Tie in quilt making with the story. You will find some ideas at: Patchwork Literature for Kids
Your class might design a quilt depicted family adventures, summer fun, or favorite books for summer reading! If you are emphasizing family relationships quilts hold innumerable opportunities!

Have students compile an annotated list of the "most exciting books ever" and reproduce it for the entire class.
Have students contribute favorite recipes for "cool" summer snacks and munchies. Create a class summer cookbook.

Compile a student address book so that students may keep in contact with classmates during the summer.
If students plan to travel this summer, have each child prepare an itinerary of their vacation plans to include an illustrated map and a student-created travel brochure.

Curriculum Connections Related to the Story
Language Arts
Ask each student to choose one of the following titles; s/he will create a written story accompanied by illustrations:

My Favorite Relative
The Best Time I Ever Had With Relatives
Going to Visit Relatives
When the Reltives Came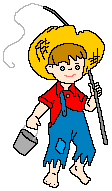 Social Studies/Geography

Reread the parts of the story that give hints about the location of the relatives' home. The book does not give a specific city or state. It does say the visitors came up from Virginia, over the mountains. They left at 4 a.m. and traveled all day and into the night. Look at a large road map of the United States, and lead a discussion that encourages students to conjecture about the possible destination of the family's trip. Locate on the map destinations mentioned, and trace the round trip routes. You might extend this activity by having students create maps of the destination they have selected.
Social Studies/Language Arts/Art
Have students illustrate a family tree.
Related Links: Geography


Return to the Children's Literature Home Page
For questions, suggestions, or
please

Jeanne at: abc123@powernet.net