Gingerbread Cookies and Houses
Gingerbread Recipes
Gingerbread Friends
Ingredients:
2 cups sugar
1-1/2 tsp Ginger
1 cup vegetable shortening
1 tsp Cinnamon
1 cup light molasses
1 tsp Allspice
2 egg yolks
3/4 tsp salt
2 tsp baking soda
Creamy Decorator Icing
1 cup hot water Raisins, currants, red cinnamon candies for decoration
8 cups all-purpose flour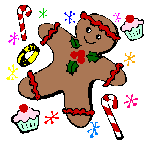 Directions:

Combine sugar, shortening, molasses, and egg yolks in large mixing bowl; beat until smooth. In small bowl, add baking soda to hot water; stir until dissolved. Add to molasses mixture. Stir in flour, ginger, cinnoamon, allspice, and salt. Cover and refrigerate dough at least 2 hours.
Roll out dough on lightly floured surface to 1/4 inch thickness. Cut out with floured cookie cutters. (If using as ornaments, poke a hole at top with a straw.) Place on lightly greased cookie sheets about 2 inches apart. Bake at 350°F/180°C for 10 to 12 minutes or until lightly browned around edges. Cook on wire racks. Frost with icing and decorate as desired. Makes 42 large cookies.
How to Make a Gingerbread House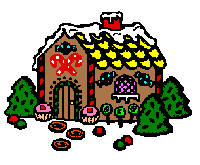 Coming Soon!!!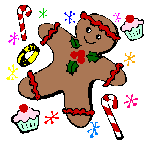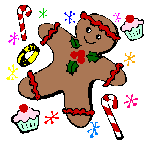 Gingerbread Recipe Links
Gingerbread Houses: Links
Gingerbread Fun!!
The Joy of Cookies
As seen in Family Circle Magazine-order hand-decorated ginger bread cookies.
A DifferentEnding to the Gingerbread Man
Lesson Plan and activity.
Return to the Christmas Recipes Home Page